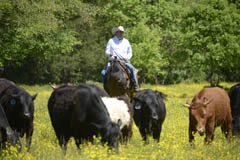 Every winter, usually in late February, we get a few days of warm weather which reminds us of spring.  This year will be no different and we use those days to catch up on outside work or repairs.  For me, it is a time to spend some time getting my tack and saddles ready for the new riding season.  It is a perfect time for you to take advantage of this opportunity.
Leather dries out very slowly over time and we often do not notice the wear until we are in the riding season.  It is one of those things that we say to ourselves, we need to fix this or that or re-oil the saddle but never seem to get around to it. The fact is, most of us do not know how to do this.  So, here are some tips of how we do it at our home.  My recommendations are based on thousands of miles or actual riding and our experience. This works for me and maybe it will help you as well.
Without a doubt, we will get dozens of emails from folks that have a better idea or do not like the way we do this, but this is what works for us.  Moreover, it is down to earth, practical applications of leather upkeep.
First, I clean my saddles with saddle soap or a good leather cleaner to remove dirt and grime from use and exposure then I oil them well.

For oiling saddles, I use a large rubber feed tray or an old bucket to catch excess oil. I place my saddle on a a metal saddle rack or maybe on a two by four board between a couple of saw horses.  I then put the bucket or bowl under the saddle in the area I am going to oil.  Outside works best because you will spill oil or, in the very least, there will be drips.
I have not found to date a leather oil I can really get excited about other than olive oil or a high grade of vegetable oil.  You will be surprised to find that simple vegetable oil is used in preparing most leather.  We are just re-applying what was originally used to make the leather.   I will take a couple of quarts oil and pour it in the bucket or bowl to use as a place to dip leather bridles, reins, fenders, latigo straps and breast plates.  
I  take the stirrups off and actually dip the fenders in the oil.  

I then hang them over the bowl to catch the oil dripping off.  
 You will be surprised how quickly the oil is absorbed.  

It sounds excessive and wasteful, but a quick dip (not soaking) and let it hang works like a charm.
In most cases, you can't see any fresh oil after 15 minutes or so.   I follow the same procedure with my bridle and again, let it hang and drip dry. The idea is to get that oil in the places that dry out quickly and wear the most.  You just can't get enough oil in those places by hand.  Again, just a quick dip completely in the oil and let it hang. The oil will disappear into the leather and any excess will simply drip off.

Now, for me, this is most important:  I take a clean spray bottle.  You can buy them at Walmart for buck or so.  Fill it with clean oil and begin spraying up under the skirting and places you can not dip or apply oil by hand.  These are the areas that are not getting any attention over the years and will dry out if not taken care of properly.  Again, I spray it and let it soak in.
After the initial application of oil, I then work oil (by hand) to the outside leather of the saddle.  These are the areas that you can easily see.  I rub it in nicely and then dry it with a cloth.  I have never had a problem with residue to clothing.
As a general rule, you will be inspecting your saddle and bridle as you do these things.  I usually pay close attention to the cinch and leather ties that secure it.  In fact, the reins I used on my bridle for the 3,300 mile Atlantic to Pacific ride, I still use. I bought them in 1995 and kept them well oiled so they are soft to the touch.  Holding reins in you hand for day after day for months is significant so I make sure they are soft and I can ride without gloves or concern.
I also oil my saddle bags and horn bags.  This is to protect from rain or moisture.  I used to have a nice horn bag. Someone 'borrowed" it and I could not find one like it again.   There are a lot of companies that make saddle bags and horn bags, but they just did not fit my needs perfectly.  On a trail ride last year in Iowa, I met Bill of Bill's Leather in Donnellson, Iowa 319-835-5449. (No email or website, just a cowboy that is a master with leather.) I told him what I would like to have and he smiled and said that was pretty simple.  A week or so later, I received them in the mail.  They were perfect and his prices are lower than most commercially stamped out bags.  My point is to get what you are pleased with and add to your riding pleasure.
So, take a few minutes, less than an hour or so, but get that tack ready to go. You will find yourself reflecting on past rides and folks you rode with.  It adds pleasure to your day to think about these things and pump yourself up for the new riding season.  When you finish the saddle/tack care, get yourself a cup of coffee and call an old friend and plan a weekend ride for the spring.
If I can help you in any way, feel free to email me.  My email is tseay10@aol.com and comes directly to me.

About the author:  Tom Seay is America's premiere trail master, leading riders on thousands of miles of trail riding in virtually every state, as well as the Yukon and Mexico.  He organized and successfully led two transcontinental trail rides, one over 3300 miles from the Atlantic to Pacific and another from Mexico to Canada, every step of the way by horseback.  He is often quoted as saying, "We are just average folks who like to ride in incredibly beautiful places. Tom is also the host of the national television show, Best of America by Horseback seen on the Cowboy Channel and on RFD TV.