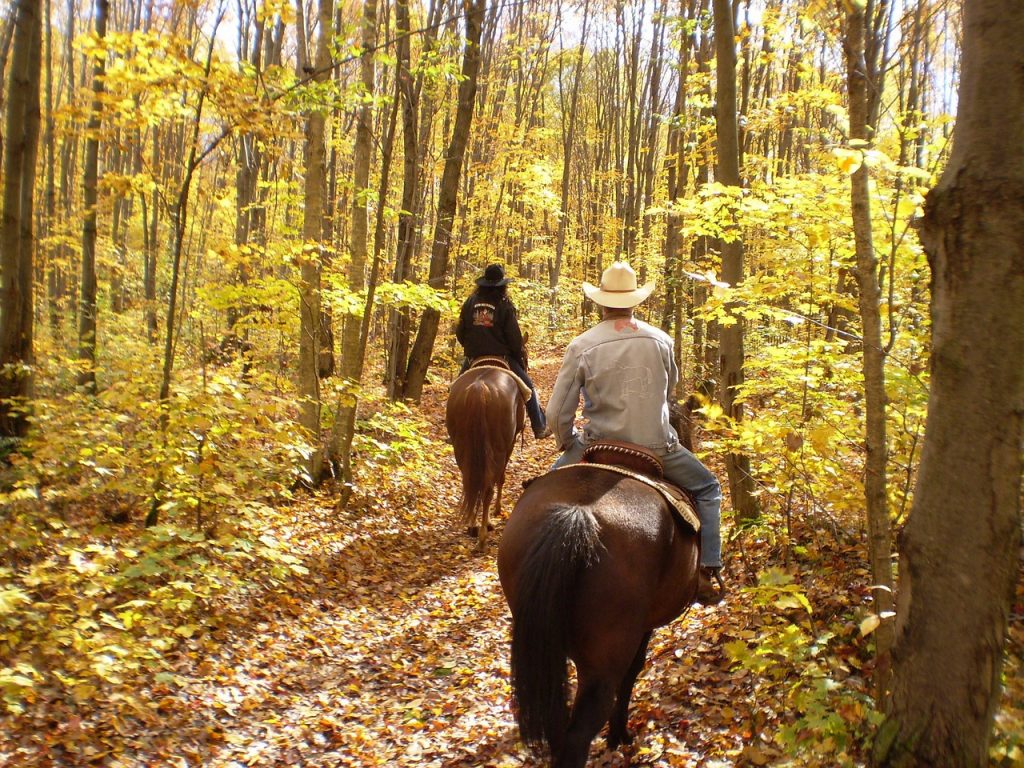 As we mentioned back in June, in our article on 'The Summer Season of Trail Riding is Now in Full Swing', those who enjoy time on horseback have been out and active. While there's much to be said for simply getting out on the trail however, this is also an excellent time for those who own and share horses to organize other activities. And one idea that's come to our attention of late is that of a horseback poker run.
For those who don't know the term, a poker run is essentially a kind of step-by-step day trip organized in the form of a gradual game of poker. Typically associated with motorcycle riding, cycling, boating, or literal running, poker runs are arranged such that participants follow predetermined routes and pick up playing cards at various checkpoints. Those cards are then revealed as full poker hands at a final stop, and a winner is determined. Said winner can earn a prize, though more often than not a poker run also involves participant buy-ins that go at least partially to charity.
Following up on that general explanation, here are a few words on how you might organize a poker run for your horseback riding community….
Choose Your Charity
Your first step should be to choose a charity. Naturally this can be just about anything you want, and it's common for poker run organizers to choose local causes to promote. If you want some inspiration though, we might recommend some trendy animal-related charities that may appeal to a horseback riding community. For instance, The Humane Society and The Best Friends Animal Society both do excellent work supporting animal welfare and shelter animals respectively; Farm Sanctuary provides shelter for rescued farm animals; you can even turn to Oceana and its quest to improve sea life. These are just a few ideas, but they're worth looking into in order to get your wheels turning.
Rope In Participants
Once you've picked out a charity and scheduled your horseback poker run, you can start reaching out to your community. Inform people of the date and time, explain the event, and mention whatever buy-in or other charitable giving options will be involved. Your specific outreach will depend on your community and the availability of horses and trails. But generally, you'll want to give people at least a week or two to plan.
If you're trying to run up the numbers, you might also continue advertising a prize (which we'll speak to a bit more below).
Brush Up On Texas Hold'em
While it's not the only variety of the game you can employ for your poker run, Texas Hold'em has established a reputation as the most popular form of poker. It is thus the one your potential participants are most likely to understand, which in turn will help the event go smoothly. Texas Hold'em is played out over the course of four dealing sequences. First, each player is dealt two personal cards. Then, three community cards are displayed. Following this, there is a fourth community card dealt, and then a fifth, before players make their final bet-or-fold decisions and then display their hands.
Next, we'll discuss how you can use this general game format to organize the poker run.
Map Out Your Course & Checkpoints
Really, you can get creative and map out your poker run route however you like in accordance with the game. But there are two sensible ways to do it with regard to Texas Hold'em. The first is to set up five stops: one each for the two personal cards to be dealt to each participant, for the three communal cards to be dealt, for the fourth and fifth community cards to be dealt, and for the reveal.
The other is to draw it out across as many stops as possible to lengthen the event. This might mean having separate stops for each of the two personal cards, for instance. It may also mean giving players the chance to bet on their hands in between dealing stops. This could lead you to about 10 total checkpoints.
Figure Out A Prize
Last but not least, figure out a prize! Most of the cash involved in a poker run (through entry fees, bets, or both) tends to go toward the attached charity. But it's also perfectly reasonable to allocate a small percentage of funds to purchase a prize for the winning hand. As mentioned, this can also help you to get the word out and attract participants.
Naturally, the prize can be anything you think up –– but we'd recommend playing off of some common equestrian awards to adhere to the horseback riding theme like the ones featured on Equine Chronicle. That might mean a ribbon, an engraved belt buckle, or even a new saddle if you really want to splurge.
And that's about it! A poker run is simple to organize if you have the space for it, and you'll likely find it to be a great way to engage your riding community for a good cause and a fun day out on the trails.