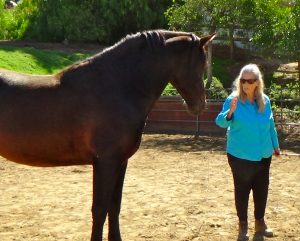 I got to know horses similar to the way that Jane Goodall did getting to know the Chimpanzees. Though admittedly I did not spend the amount of time that Jane spent in nature. I have spent a lifetime using the training of horses as a way to allow the horse to guide me to become a better horseman. Even at my age of 72, I see my horsemanship skills growing. This is one of the reasons that I stay with it, being a student of the horse. The big reason for my continued interest, beyond my love of horses, is the joy and life enhancement it offers to my heart and soul. It keeps me young and excited about life. I actually wish that all horsemen could experience this amazing journey.
I want to share a story with you the might inspire you to take the lifelong journey to developing your understanding of horses through the training of them, as I am doing. I read this in a book titled "Zen Mind Zen Horse" by Allan Hamilton. M D.
What I remember of the story went like this…
There was a Japanese Horse master that had lived to the ripe old age of 100. On his deathbed he was regretful and saddened that his life was coming to an end. His oldest son was at his side taking care of him and he told his son that it was a pity that he must die now, especially at this particular time. The son could not believe that his father could be sad. He told his father that he was the oldest, the wisest and the most revered man in their village. He felt that his father should be happy that his life was so complete; after all he was the most celebrated horseman in Japan. He said to his father how could he ask for more? Why despair about dyeing? His father said that it was just last week that he had begun to truly understand what horsemanship was all about and that it was such a pity to die now because he was off to such a good start.
Michelangelo the creator of the Sistine Chapel echoed these same sentiments when he said at the end of his life, "I am dying just as I am beginning to learn the alphabet of my profession."
This is why I continue to train horses, after many years, and why I ask others to join me. I know that everybody comes away from my courses with new knowledge and an ability to dance with horses in a very short time. However, I want to say that there is so much more to what you can learn from my Method and much more that I would like to share with you. My interest is to inspire my students to keep learning and developing their horsemanship skills by working with me directly at my ranch doing private or group clinics, once they have taken the online course. I also give private lessons. This way we can really carry your work to the next level. You can learn more about the programs at my ranch by clicking the links below.
Have a wonderful weekend! Be on the lookout for new horse and human sightings.
Warmly, Carolyn
---
CAROLYN'S UPCOMING EVENTS:
1. ONLINE WATERHOLE RITUAL COURSES
2. PRIVATE CLINICS WITH CAROLYN
3. GROUP CLINICS WITH CAROLYN
4. < href="http://www.carolynresnickblog.com/coaching/coaching-programs/">PRIVATE LESSONS WITH CAROLYN
---
WE HAVE A WINNER!!
Congratulations to Wendy Coons who won the "Dancing with an Imaginary Horse" video contest.
Here is her video.
Thank you to everyone who entered. It was so much fun watching everyone's videos. Until next time…
Here are the silver and bronze winners:
Gold wins a free spot in the 2014 Fall Extended Circle Course and Silver and Bronze win 50% off on the 2014 Fall Extended Circle Course