New Equine Microchipping Program will give horse owners peace of mind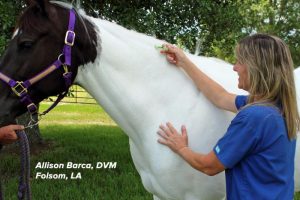 February 22, 2018, Brighton, Colorado:
Over the past decade, Colorado has endured a number of devastating forest fires and floods which resulted in emergency evacuations and horses becoming displaced from their homes and owners.
The Colorado Horse Development Authority (CHDA) is responding with a voluntary solution to help reunite owners with their horses. The CHDA has joined forces with Microchip ID Systems, Inc., an ISO-certified microchip manufacturer, to offer a special kit for horse owners. Each kit contains a Microchip and  full enrollment into the Equine Protection Registry™, a nationwide database with live customer service.
Any veterinarian or disaster team will be able to read a participating horses's microchip and then contact the Registry for owner information. Owners will be able to control their data at all times and can display an owner certificate and the horse's picture on mobile devices.
"I have volunteered during multiple evacuations since 2002 and can say from experience that it's better to have your horse microchipped and never need it, then to need it and not have your horse microchipped. Your horse can't tell anyone that he or she belongs to you, but the microchip can."
said Andrea Raschke, Treasurer of the Colorado Horse Council and Manager of the Jefferson County Large Animal Evacuation Team. "A registered microchip works hand in hand with a Colorado Brand Certificate. The certificate is like the title to a car, and the chip is like the car's VIN. Both are backed up in databases or files for owner protection."
Equine microchip kits are available for purchase online through the Colorado Horse Council website for $23.50. Each package includes an EquineChip™ and syringe (to be installed by a veterinarian), and a full enrollment for horse and owner into the Equine Protection Registry. Go to: 
https://www.coloradohorsecouncil.com/chda/microchip-program
Veterinarian, Dr. John Wade, will be at the upcoming 2018 Rocky Mountain Horse Expo –
March 9-12
. 2018 – doing demonstrations of microchipping and answering questions from the public. Microchip kits and scanners will be available for sale at the show.
"The tiny, safe, registered microchip is one of the most important things you can do to prove ownership," said Dr. John Wade.
The 2018 Rocky Mountain Horse Expo takes place from
March 9-11, 2018
at the Western National Complex in Denver. Tickets for the show can be purchased at
RMHEtickets.com
For more information, contact:
Dr. John Wade, Veterinarian
Chief Executive Officer, Microchip ID Systems Inc.
Andrea Raschke
Treasurer of the Colorado Horse Council
Manager, Jefferson County Large Animal Evacuation Team.