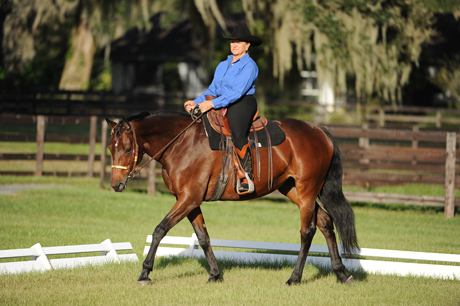 This article really begins with a story.
In 1997, I tried to upgrade my business of training and competing with horses in multiple disciplines into something else by changing my approach to basic training. I tried to use the term "Dressage Principles" as a basis for Palm Partnership Training's teaching and education guidelines.
Using the word "dressage" hurt our educational merit in the beginning. I would have people come up to me at horse expos, and write letters, emails, and Facebook messages noting that they were Western riders and "didn't do" dressage. Others said that dressage is too difficult to ride, and they could never achieve it. People would even make comments saying, "I am a trail rider, and I don't ride dressage!"
Hearing this over and over made my husband Cyril, farm manager and friend Marie-Frances and me all agree we shouldn't use the term "Dressage Principles" as a basis for our training and teaching methods at that time. So we didn't.
Ironically, 15 years later people started coming to us and saying things like, "We take dressage lessons and ride western!" and "I want to learn dressage because I know it is going to make me a better rider for my horse." We agree it wasn't the right time back then to introduce such a strong term, but now it is part of the Palm Partnership Training fundamentals. Dressage principles truly allow you to become the best partner for your horse!
I am truly blessed to have dressage as my first influence in riding and training horses. Cyril also learned dressage as his basis for riding. Cyril is from Europe where dressage is taught to all riders before they advance to jumping or 3-day event riding. "Dressage" is a French word that means "training" a horse. It is the TRUE natural horsemanship of riding and training a horse, because it allows us to truly understand what the horse is telling us and how to tell the horse what we want.
These are the main reasons why western riders are so excited about this new discipline. They are realizing all the natural horsemanship techniques that we Americans are coming up with are both good and bad. However, we should also follow the dressage principles of classical dressage because it has already proven successful for centuries.
When I learned to ride in the dressage saddle, I would go home and ride Western the same way. NO difference! It really works! Western riders are looking to train a willing horse and not train through submission. Harmony with the horse is what horse owners want whether they are a recreational rider or show ring competitor. This is the beauty of western dressage and why it is going to grow and become even more popular. The best part of western dressage is that it is helps people learn the correct ethics of horsemanship and how to train a willing horse.
The bottom line is that people want to learn more about correct riding and training. Dressage will give you the tools to achieve this correctness. It is all in following the Training Pyramid and the dressage levels. There are western dressage tests you can access at http://westerndressageassociation.org/. The perfect way to learn is to practice these tests.
Western dressage is for all breeds of horses. It is for the first-time horse owner and for the owner who has had horses all his/her life.
I love to hear horse owners say, "the more I ride and learn the more I realize how much more I don't know!" Dressage will fill that gap and give you inspiration. Lastly, dressage will give you wonderful challenges for riding correctly and with accuracy during riding tests. It is fun and is similar to the sport of figure skating. It is done with athleticism, which brings out beauty and grace. It reveals lightness and the ability to harmonize with the horse. I promise, if you ride a test, you will get hooked. Join us, and I promise you will love it.
We would love to have you come ride with us. We love to share our dressage backgrounds and knowledge with you. You can join us at our Ocala, Florida, farm or at one of our Ride Well Clinics on our USA Tour at a location near you.
For more information about training courses, educational materials and much more, please visit www.lynnpalm.com or call 800-503-2824.