Palm Partnership Training™
Building a Partnership with your Horse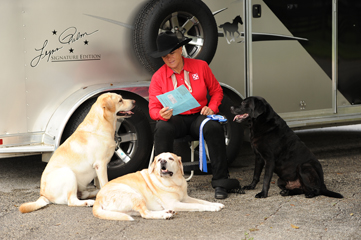 The greatest advantage of the Western Dressage discipline is that you know what you have to do with each levels and test. It is not like going to a hunter show and having to learn the day of the show the course for Equitation or Hunter over fences, or a western show and having to learn the new trail or horsemanship patterns.
So how do you know what level of test to show in and what do you expect to pre-enter a show? Here are my tips to know what level you need to show in and what you need to know about pre-entering.
Practice the tests at home and start with the first tests. Walk and trot. This is the best way to get your "feet wet" and compete with success and confidence.
If you have not shown in a good while and want to get back into it, find the level at which you and your horse do very well and can ride consistently. Then always start with the test 1, then go to test 2, then test 3. As the number of the tests get higher, the tests become more difficult.
Watch for soundness and willingness from your horse. Are his ears forward or working back and forth attentively? Is he confident and happy with his rider?
Is your horse relaxed in his overall body with his tail relaxed, swinging at the bottom, as opposed to swishing or wringing his tail? Is he confident and in a correct balance?
Is your horse responding to light aids?
Are you riding with your eyes focused far enough ahead so you can give your horse the communication to respond to you with smoothness, confidence, and accuracy?
Are you learning the level and test well enough that you don't "feel lost" riding the test? This means that you are riding in a level that is suited for you and your horse.
Are you getting frustrated making the same mistakes? If so, go back a level or test. This is the beauty of Dressage. You stay at the level you are confident in and move up when you and your horse are ready. No pressures and please respect this.
If you and your horse are ready to move up a level and test, make sure that you still enter a lower test or level at the same show and day. This lower test will continue to build confidence and help you ride positively when you try your more advance test for the day or weekend.
Tips for Pre-Entering:
Find the show in the listing from USEF/USDF approved shows, or your local schooling show, though your horse clubs or associations.
All Dressage shows have pre-entries, at least two weeks ahead, so they can make the line up of times for each level, tests, and divisions of Jr., Amateur, or Open (Pro classes).
Contact the show secretary though the phone or email and make sure that you meet them at the show and thank them for all their good efforts to hold the competition
Upon entering your level and test, make sure that you enter the level you ride well and if you are ready to move up, enter the next higher level or test.
Meet the deadline of entries. Today you can do most entries online and with credit cards for convenience. However, if you mail the entries, make sure you send them to be received with a signature and tracking number.
When you get to the show, make sure after unloading your horse and tack, that you go to the show office and get checked in. You MUST have your numbers on everywhere at the show. If your horse is out of the stall, he must have the number on the halter or bridle. Meet your secretary; most shows will have a nice treat for your horse when you get there.
I hope that these tips are helpful to you. Now get out there and show! You will love it and you will have so much fun. The shows are laid back so you have time to watch others and learn and get inspired. Make sure you make time to graze your horse, as this is a great way to give your horse a treat and get him out of the stall.