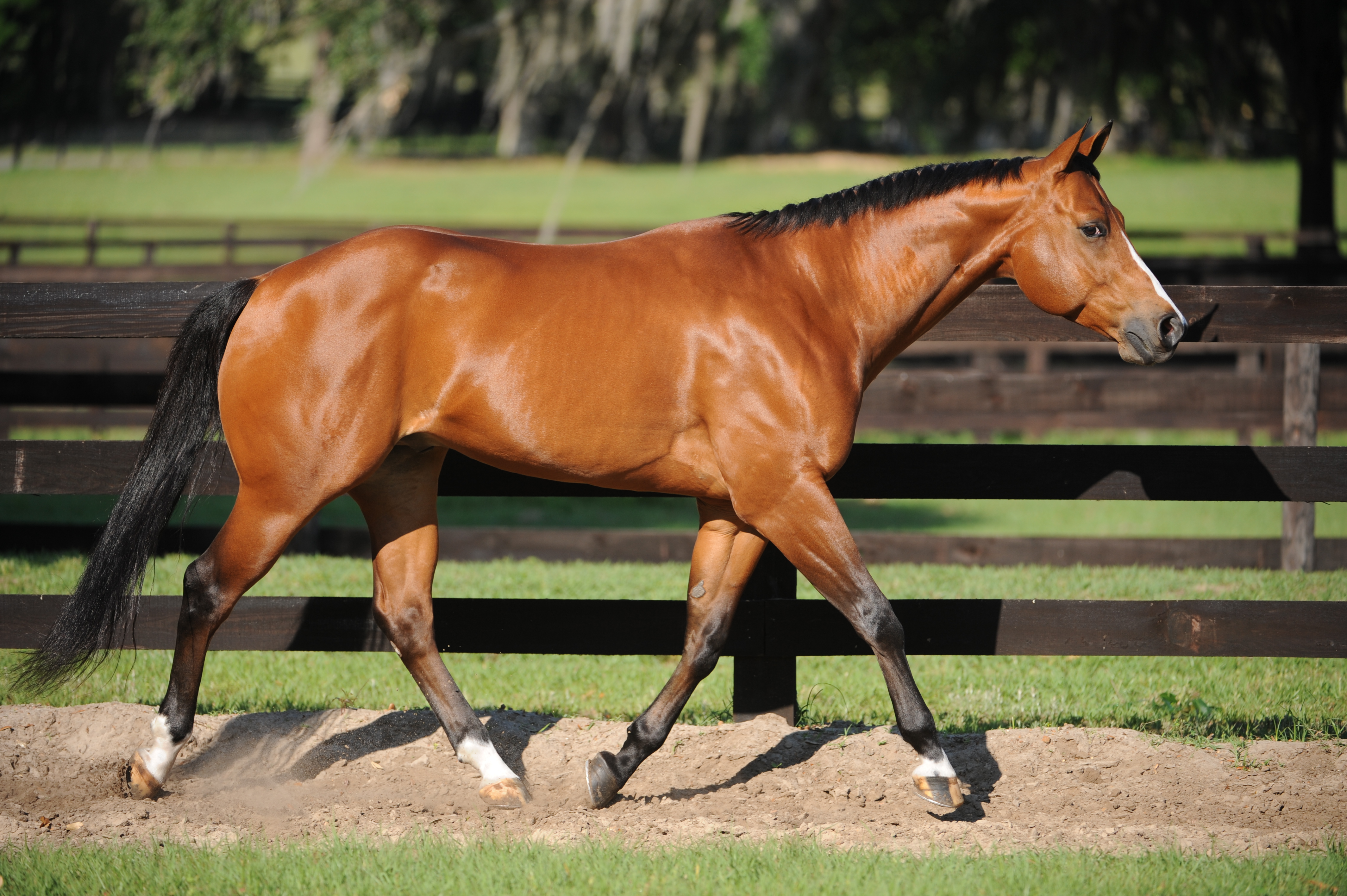 Dear Julie, 
My 12-year-old Appendix Quarter Horse is always in a hurry—even to get around the arena! I'm always pulling back on her mouth to slow her down, but she speeds up again right away. We're in a constant battle. My friend suggested I use a stronger bit, but I hate the thought of putting even more pressure on her mouth. What can I do to help her slow down so we can both have a relaxed and peaceful ride?
Searching for Slow
Dear Searching,
Sometimes it seems like there are only two kinds of horses in this world: horses with too much go and horses with too much whoa. In the overall scheme of things, a slow horse is easier to fix than a fast one, but there are some important things to know about slowing down your fast horse.
Since speediness is related to the horse's flight response, it's safe to assume that the speed demons are sensitive horses; they're often anxious. They just have that wound up temperament—just like a person who's prone to worrying. If you can show your horse a better way to be—he'll gladly relax and slow down.
Because being speedy has to do with his overall temperament, a stronger bit probably won't help and may make matters worse. When your horse feels the increased pressure on his mouth, he may become even more anxious. And guess what horses do when they become anxious? Speed up! That's the flight response by definition. In the wild, a horse would flee the scene if he felt insecure or worried. Under saddle, your horse speeds up and attempts to avoid the worrisome experience.
Many riders don't know what to do with their speed demons—so they pull back on their horses' mouths. It sounds like this is the frustration you're explaining. When your horse is speedy, you ride with the reins tight all of the tine—never giving your horse slack. In essence, it's like driving with one foot on the accelerator and one on the brakes. Your horse is already to accelerate and—although you think you're telling him to slow down—he hasn't felt a release (what he needs to experience in order to learn another way) to tell him to do anything but keep going at his current speed. If the release never comes (even if it's only momentary when he slows down at the tiniest of increments), he'll never learn the right response. This fear-causing scenario may cause you to pull back more and your horse to speed up even more. You may also be inadvertently cueing your horse to go faster if your body becomes tense and you lean forward to pull harder on the reins. Your body tells your horse to go-go-go while you think you're telling him to stop. Volume two in my Goodnight's Principles of Riding DVD series explains how your weight/center of gravity cues your horse and rates your speed.
And let's think about the mechanics of what happens in your horse's mouth when you get into this pulling fest. Even with no pressure on the reins, it's not pleasant for your horse to have a metal bar in his mouth. Any pull on the reins brings uncomfortable pressure. I like to empathize with the horse by thinking what it's like to have x-rays of my teeth taken at the dentist. The slightest pressure on my gums or roof of my mouth with that little cardboard piece of film makes me cringe. Keep in mind that horses have nerves in their lips, gums and palate just like we do and the pressure can be sharp and may come without any warning. Some horses tolerate pressure on their mouths better than others. For a sensitive, anxious horse, more pressure on the mouth makes him more anxious and therefore faster.
The correction: When I work with "speed demon" horses, I start by placing a milder bit in his mouth and riding with a loose rein. You'd be surprised how many horses will be cured—slowing down immediately—with those two simple steps. If you've become fearful of your horse and going fast, you may ask an experienced horse person or local trainer for help during this initial step.
If a horse is still speedy, I teach him that slow is good. When he slows down, he'll get the release he's looking for. Here's how:
1. For this exercise, work in an enclosed arena and outfit your horse in a mild snaffle with a nice long rein (a single-loop rope rein works well for this exercise, see www.juliegoodnight.com for the recreational rein I designed). Keep in mind that the worst thing you can do is pull back with two reins at the same time. That makes a speedy horse brace his neck, lean into the pressure and go faster.
2. Start by walking your horse on a totally loose rein. There should be a huge loop in the reins and your knuckles should be down on the horse's neck (there must be a dramatic difference between contact and loose rein so he can figure it out). If he won't walk with his head down on a loose rein, continue to practice the rest of the exercise at the walk until he lowers his head and shows you that he understands that he'll get a release when he's slow and relaxed.
When your knuckles are in contact with the horse's neck, he'll always relax because he knows you can't pull on his mouth as long as your hands are on his neck. He'll learn to modify his behavior in any way if it makes you put your knuckles on his neck and give him a loose rein.
3. Give your horse a gentle, soft cue to trot (some speedy horses you don't have to cue to trot, but just think trot). If your horse lurches into the trot like he was shot out of a cannon, you're probably over-cueing him.
4. Out of habit, he'll start going too fast. Instead of hauling back on two reins and falling into your same old trap, slowly slide your hand down one rein (either one), then slowly lift that hand up and in just a little, asking the horse to flex his neck to that side. You aren't trying to slow him down with your hand, just asking him to flex his nose around toward your foot.
Over-flex his neck, allowing him to turn with the outside rein totally slack. Keep him over-flexed on the turn until you feel him slow a little, then immediately drop that rein dramatically, and put your knuckles on his neck with a totally slack rein. He'll probably speed up again. Slowly and gently pick up the other rein and over-flex him in the opposite direction, giving him a giant release (allowing slack in the rein) as soon as you feel his rhythm slow. Whenever he speeds up, pick up one rein and flex him (always alternate reins); whenever he slows, give the giant release. You'll teach him to hold himself in a steady speed, without your constant nagging.
The outcome: Since going in a small circle with his neck over-flexed is really hard and going straight slowly is really easy, he'll figure out how to move ahead easily at a slow and rhythmic pace. It's not the turn that slows him down so much as the flexing his neck from one side to the other.
Depending on how good your timing is and how quickly your horse learns (those two things are directly related) it may take him a few repetitions or a few weeks to learn. With consistency, your horse will learn that all he has to do is go slowly and he can go straight on a loose rein.
Good luck with your horse and with a little work, you can teach your horse a better way so that you're both happier! There's lots of information on my website, www.juliegoodnight.com that can help you along the way.
Enjoy the ride!
Julie Goodnight, Trainer and Clinician
www.juliegoodnight.com
In this series, master trainer and clinician Julie Goodnight discusses the riding terms and techniques you probably know (or should know). She'll define rein, seat and leg cues you'll need for the best communication with your horse. Then she'll help riders solve problems with their own horses. Learn the proper terms and apply your aids for a better grasp of horsemanship and a better riding relationship with your horse. Check out Julie's new television series, Horse Master with Julie Goodnight on RFD-TV every Wednesday at 5:30 EST.
###