Notes From Julie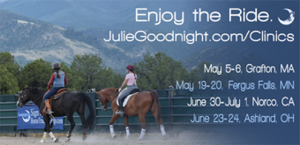 Dear Julie: This may be a very odd question, but I was curious how many times have you been kicked or caught in the crossfire in your training career? I've been kicked three times, but tonight I got kicked square in the pelvis by a dominant mare who was going after my mare while I was putting a halter on her. I saw it start to happen, but couldn't get away fast enough. It is the first time I have considered throwing in the reins because it frustrates me so much.
First Time for Everything
One of my earliest memories is of getting kicked by a horse. It was circa 1965. I was 5 or 6 years old and my dad was feeding the horses who had lined up in their tie stalls for their grain. I was watching my dad feed as I wandered aimlessly around the barnyard—right smack into the kick zone of the food-aggressive gelding. Lightning fast, he kicked me square in the stomach—throwing my little stick figure up into the air and landing flat on my behind unceremoniously in the mud. It was the first (but not last) time I got kicked and also the first (but not last) time I got the air knocked out of me. It was, however, the very last time I laid eyes on that gelding. My dad never tolerated unsafe horses. Nonetheless, wrong place, wrong time. Entirely predictable.
Julie Goodnight takes on topics you want to know more about in her online training library—part of her ever-expanding Horse Master Academy (http://signin.JulieGoodnight.com) now with a free access membership to help you search for many training articles, videos and MP3s!
For more thoughts from Julie, watch her Horse Master TV show each week on RFD-TV or catch the show online anytime at TV.JulieGoodnight.com and please subscribe to the free YouTube channel at http://YouTube.com/juliegoodnight and find her on Instagram at http://www.Instagram.com/juliegoodnight. Check out her full list of clinics and appearances at: JulieGoodnight.com/calendar